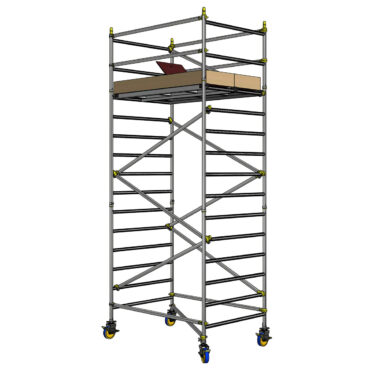 Aluminum Mobile Scaffolding Tower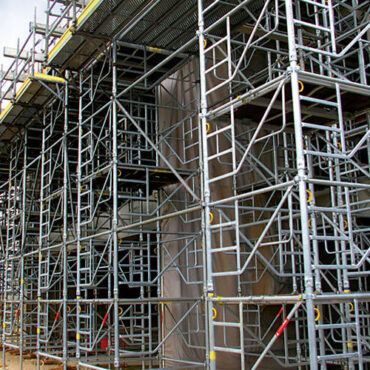 Steel Scaffolding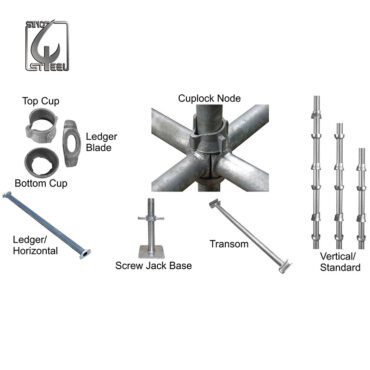 Cuplock Scaffolding Accessories
Aluminum Mobile Scaffolding Tower:
Aluminum Mobile Scaffolding Tower is very light-weighted, so it is suitable for both indoor and outdoor use. These towers provide a safe working platform for a variety of heights, because of that, it makes a great choice for quick access solutions since they are very easy to transport, even after their installation. It is easy to assemble within a short time.
Aluminum mobile scaffolding is a better choice than a ladder, especially if has to perform the works continuously, and is very safe to use. It has a wider platform to accommodate the labor, tools, and materials. The chances of slipping are eliminated completely, as it is a self-supportive structure.
Rental of Aluminium Scaffolding;
The single-width and double-width aluminum mobile scaffolding towers are available for rent. Single width aluminum scaffolding tower is best for use when there is a space restriction. We supply the aluminum scaffolding on a rental basis, all over Qatar. In this way, we have attained recognition as one of the best scaffolding rental companies in the industry.
The Aluminum Mobile Scaffolding Towers are perfect for any residential, commercial, or industrial project. It is useful for various works which include the following: –
Building
Painting
Plastering
Electrical work
Maintenance work
Lighting
Plumbing
Roofing
Civil works
Industrial projects
We offer Aluminum Mobile Scaffolding Towers on rent either on a weekly or monthly basis. As a reputed scaffolding company, we aim to maintain our position as the most efficient supplier of Aluminum Mobile Scaffolding Tower on a rental basis.
Supply of Certified Scaffolders:
Mecton Al Laith Scaffolding can also supply certified scaffolders to support all types of industries. We feel confident to satisfy our clients with the supply of trained and experienced scaffolders to meet the job requirements of our reputed clients.
We are one of the leading scaffolding companies and having the capability to supply certified Scaffolders, on a long-term basis and short-term basis and delivering high standards of workmanship as per the requirements of our clients. The hiring of scaffolders from us makes a huge difference compared to labor supply companies. As a specialized scaffolding company, we monitor the performance of each scaffolder individually on regular basis. We guarantee that each of the scaffolders is well-trained and 3rd party certified. These scaffolders are experienced only in scaffolding works, so they are specialized in their job. We believe that very competent, highly skilled, and third-party certified scaffolders are our assets.
They have good knowledge in the health and safety procedures of scaffolding works as per the requirements.
Steel Scaffolding:
We provide steel scaffolding on a rental basis, on a weekly basis, and monthly basis. The main steel scaffolding we supply on a rental basis is cuplock scaffolding. Steel scaffolding has great strength and durability, also steel scaffolding can support very heavy loads at the same time.
Advantages of Steel Scaffolding:
Steel scaffolding has many advantages and some of them are described below :
Providing a steady, strong, and firm standing.
It can bear the load and the pressure as it has longer durability
The assembly and dismantling of Steel scaffolds are very easy and it increases the work efficiency.
The main difference between steel and aluminum is the weight.
Steel Scaffolding Rental
We rent out the cuplock scaffolding on a lump-sum basis for a given size of scaffolding. For example, 100 Mtr length X 2.5 Mtr Width X 20 Mtr Height.
Provide us the size and quantity of the scaffolding, we will work out the best possible rental rate for you. The rental charge is not based on the exact quantity of individual components of the scaffolding, but on a lump-sum basis, based on the actual size of scaffolding.
If not sure about the size of the scaffolding, give, we will make a survey of your project to estimate your specific requirements.
Cuplock Scaffolding Accessories:
Cuplock scaffolding is a heavy-duty scaffolding made from Steel. We supply cuplock scaffolding and its accessories on a rental basis. Cuplock scaffolding is much better than lightweight scaffolding in terms of durability and safety. As a reputed scaffolding contractor, we can supply cuplock scaffolding of any size, including installation.
Cup-lock Scaffolding is a multi-purpose system suitable for access and support in all types of Industries and construction of building & Civil engineering projects. Examples are continuous façade, circular scaffolds, birdcage access, and staircase access. It is also used in more specialized applications, such as shipbuilding, tank building, etc., The key advantage of the Cup-lock support structure is its unique node point, which means, four connections in one action. Easy to assemble and dismantle the cuplock system of scaffolding within a short period of time.
Cuplock scaffolding structures have three basic elements:
Standards
Ledgers
Transforms